We are located in the Angelina National Forest, at 447 Speirs Rd. Zavalla, Tx 75980 between Zavalla and Jasper, Texas off US Hwy 63.
#1
Directions from 96
From US Highway 96, you will turn west onto Recreational Road 255.
After you cross the Dam (about 2 miles)turn right on Letney Rd.,
turn left on the first paved road, (its a hard left).
Drive 2.5 miles and turn right at the "Plum Ridge" neighborhood sign.
After passing the church turn left on Letney St.,
turn left at the first dirt road (Bowers rd.),
turn Right at the "Ogg's Fish Camp sign,
the office is located at the ice machine.
281-732-7582

---
#2:
Click Here
Here is a close up of Plum Ridge, you may have to slide it down a bit to see Speirs rd.
---
#3
Directions from 63
From the Jasper area, take US Highway 63 (toward Zavalla & Lufkin), turn right 2.7 miles past Hwy. 255. (This road will take you to the Sandy Creek boat ramp also.)
Travel 1.8 miles and turn right on Plum Ridge Road (the only paved road).
Travel .8 miles and turn left at the white Plum ridge neighborhood sign.
Turn left onto Letney St. after you pass the Baptist Church.
Turn left at the first dirt road (Bowers Rd)
turn right at the "Ogg's Fish Camp sign,
the office is located at the ice machine.
281-732-7582

---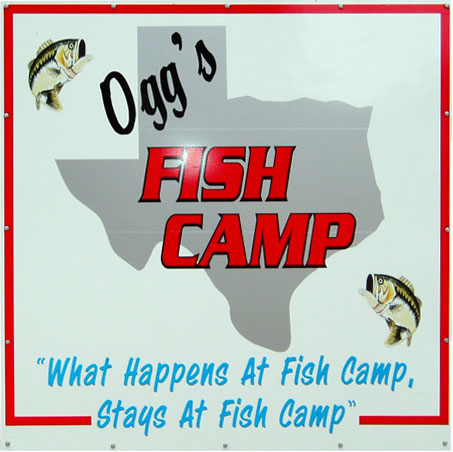 ---
Ogg's Fish Camp, LLC
447 Speirs Rd.
Zavalla, Tx 75980
darrellkaren@gmail.com
281-732-7582

COPYRIGHT © 2007 to INFINITY - OGG'S FISH CAMP, LLC